Cessna 182 POH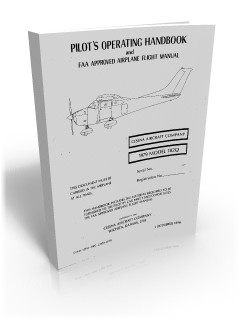 I can remember vividly my first flight in a Cessna 182.  For me, it was the first step beyond the training airplanes of the Cessna 152, 172 and 172RG.  The Sylane was a "real" airplane, equipped with a 230 horse power engine!  If I'm not mistaken, my first flight in a Cessna 182 was actually in a Cessna 182RG (retractable gear) which made it just that more exciting because it required that I get both a high performance AND complex endorsements.
So in case you're getting ready for your first flight in a "real" airplane, I am providing for download a scanned copy of a 1979 Cessna 182Q POH.   This is provided for informational purposes only and is only to be used as a flight training reference. And unlike the C172 POH also available for download, this POH contains all the sections including the Airplane Handling and Servicing ( section 8 ) and Supplements (section 9) section for equipment that was optionally installed on this particular serial (which I have erased).
A little information about the Cessna 182Q.  First off, Cessna built 710 Q's in 1979 alone (that's quite a testament to how many total airplanes were being produced then).  The 182Q had the Continental O-470-U engine which developed 230 HP.  The Cessna 182Q had a top speed of 148 knots and dirty stall speed of 50 knots.  In 1979, the Cessna 182Q had a standard fuel capacity of 92 gallons which was an increase of almost  31 gallons from the standard tanks on the 78′ Q.  With those extra big tanks, the 182Q could fly for nearly 6.2 hours at 144knots for a range of nearly 900 miles!   I'm not sure when the Little John was invented, but I'm guessing now perhaps in the late 70s or so.
So here you go.  The 1979 Cessna 182Q POH
Cessna 182 POH (13067)