Why does the Cessna 421 have a reduction gear on the prop?
Marty emailed me tonight asking:
Why do they gear aircraft engines to slow down the prop? In a C-421, why not let the prop spin at 2400rpm in cruise instead of gearing it to about 1800?
Hi Marty,
You've asked a good question and one that I asked myself when I first started flying Cessna 404s (which have the same engine and geared prop as the C-421)
I looked up my notes from Flight Safety and here is what I wrote (exactly):
"geared – quieter – turn at lower RPM and a little more power"
Hmmm, not much help.  A little more digging into my Cessna 404 Flight Safety Manual and I learn:
"All Cessnas, except the 421 and 404 series, have nongeared propellers mounted directly to the engine crankshaft. The 404 and 421 series include a reduction gear driven by the crankshaft to provide a 2.3 ratio between engine and propeller rpm."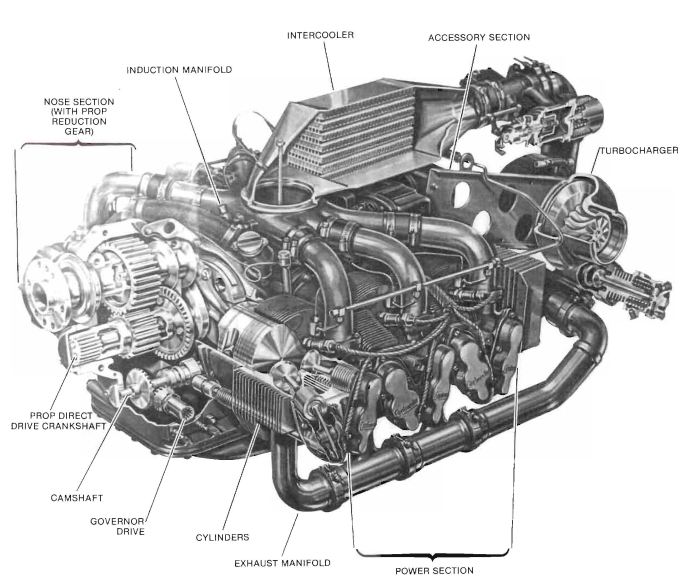 And my last source (and this is the best) is from "Aircraft Systems for Pilots" by Dale de Remer and it reads:
"The increased brake horsepower delivered by a high-horsepower engine may be the result of increased crankshaft RPM. It is therefore necessary to provide reduction gears to limit the propeller rotation speed to a value at which efficient operation of the propeller is obtained. Whenever the speed of the blade tips approaches the speed of sound, the efficiency of the propeller decreases rapidly."
So Marty it sounds like that the McCauley 3 blade constant speed props that are found on the Cessna 404 and 421 have a ideal RPM range and the 375 horsepower engines (Teledyne Contiential tubro-charged GTSIO-520-M) might provide a little too much power at full RPM to the prop.  To fix this they insert a reduction gear between the crankshaft and prop so that the prop turns a little slower and falls within the propeller's efficient operating speed.
I hope this helps and thanks for your question.
Fly Safe.