Paper Airplane Demonstration Template
Flight instructors are taught the importance of using visual aids when preparing a lesson.  Statistically, most people are visual learners.  There is nothing more frustrating than trying to teach a certain concept to a primary student and not having a good airplane model around to use as a visual aid.
A good friend suggested that I take some time to read the "Civil Pilot Training Manual", which I am doing now.  This manual, developed by the Civil Aeronautics Administration in 1941 is the template that every pilot training manual and textbook in existence today is based upon! And that is no exaggeration.   In this book, on page 102 I stumbled upon "Figure 73 – Plan for Demonstration Model".  One of the reasons I like this model is because it has markings for flaps, elevator and rudder. It would be a great aircraft to teach about the three axis of flight (longitudinal, lateral and vertical) and the basic aircraft structures.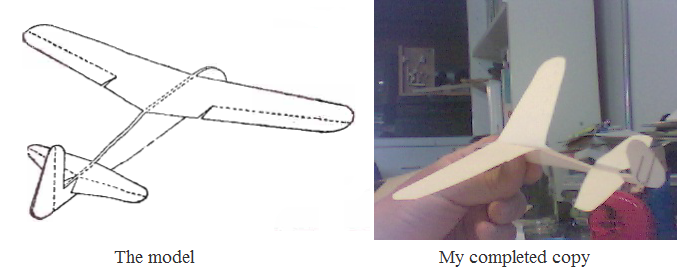 I scanned the template in, enlarged it slightly (the one in the book is much too small) and saved it as a PDF that is available now in the download section of askacfi.com.
My recommendation would be to make the demonstration model a little robust by making the airplane out of some heavy cardstock. You can do that by:
1) Printing the template out on normal paper. Make your own carbon paper by taking a lead pencil and heavily shading the outline on the reverse side of the paper
2) By tracing and heavily pressing on the outline you can easily transfer the template to your own chosen cardstock paper.
3) Cut where indicated and fold where directed.
Download the template here:
Cardboard Demonstration Model (7391)
p.s. it doesn't fly very well (at least for me).