What is 85% Boeing Annual Wind?
So I've been thinking about buying a new Boeing 767. You know, just something to get up to the lake and back.
When Boeing sent me my informational brochures this past week, I decided to take a look at the range charts. Just to make sure it will make it to the lake (did I mention it was Lake Lucerne?) And like a good pilot should, I read the fine print on the range chart to make sure I understood the specific conditions those performance numbers were generated with. I read an interesting note, "85% Boeing Annual Winds" hmmm…..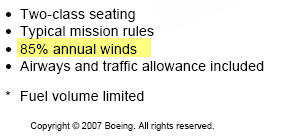 So what is 85% Boeing Annual Winds?
I did some research, made some phone calls and ended up talking to a guy at Boeing Flight Operations named Jeff. Jeff was gracious enough to send me some information on Boeing PC WindTemp. Turns out that Boeing keeps some pretty good records of winds. In fact, they have complied 30+ years of wind information for well, basically the entire world. That information is available via a software interface they call PC WindTemp. This information can be really important say, if you are an airline or an airplane manufacturer and wanting to very accurately determine range and aircraft performance between two given locations.
So 85% Boeing Annual Winds means that those performance numbers were generated with wind information that is that has an 85% probability of being present on any given day. In other words, there is a 15% chance that the winds when you go flying could be higher or lower than the winds calculated for those charts. Make sense?
I was really interested in the information for creating some range rings comparing two different types of aircraft. Boeing PC WindTemp is a commercial program, so it has a commercial price but it might be of great benefit to your operation.
Fly Safe