What is manifold pressure?
Here is a simple enough question that made it to my inbox today:
What exactly is meant by Manifold Pressure?
The manifold pressure gauge is an engine instrument typically used in piston aircraft engines to measure the pressure inside the induction system of an engine.   In other words, it literally reads the pressure inside the induction system.
Correction:  A good pilot is always learning right?  Well, since writing this post I have learned that the manifold pressure gauge is really NOT about pressure but about suction!  Think about it.  Your whole engine (especially the cylinders) is a big vacuum pump.  Every time the piston drops into the "intake" stroke it is literally pulling or sucking air into the cylinder. Your manifold pressure gauge is actually reading suction not ram air pressure. That's why at idle power your manifold pressure gauge might read 10 or 12 inches when the outside ambient pressure is 30 inches. Your engine is literally starving for air! It is creating a vacuum or negative pressure inside the intake manifold.
The induction system of couse being the air / fuel mixture that is between the throttle and the cylinders.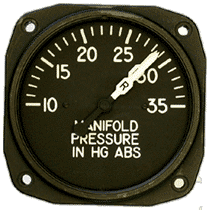 This measurement, which is read in inches of mercury or "in hg", is one of the best methods to determine just how much power is being developed by the engine.  The more air and fuel we can pump or pull into the cylinders, the more power the engine can develop (which makes us fly faster).   When you can measure how much air pressure is in the induction system, just before the air / fuel mixture enters into the cylinders, you will have a good idea of how much power you are developing.
In normally aspirated engines (non turbo-charged), the manifold pressure gauge has a range of anwhere between 10 – 40 in. hg (or inches of mercury).  In a turbocharged engine, the manifold pressure is allowed to go as high as the engine manufacturer allows.  When the engine is shut down, the manifold pressure gauge should read very close to the current atmospheric pressure setting.
In order to equate manifold pressure to aircraft performance we need to look in section 5, or the performance section of our Airplane Flight Manual: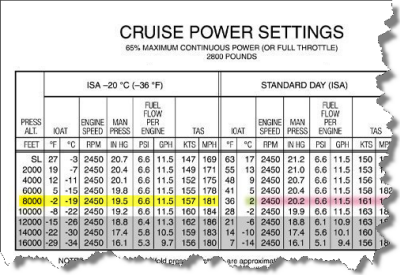 Take a look at this sample above.  You can see that at 8,000 feet pressure altitude, -2 C, and 2,450 RPM we would be developing about 19.5 inches of mercury in the induction system.  You can also see how that would then be related to fuel flow and our true air speed.