Engine Run-Up at a busy airport.
Bob writes asking about the best place to complete a engine-run-up at a busy airport:
On a controlled field, where is the appropriate place to complete the aircraft run-up checklist? I trained at an uncontrolled field where there was space where the taxiway meets the runway to pull off to the side and do the run-up, but the controlled fields I've visited don't have much space to get out of the way and are likely to have people behind you waiting to depart.
Bob, you have asked a good question, and you are right, at a busy airport, many times there does not seem to be a good place to do a run-up where you won't throw debris or rocks at another aircraft.   My advice would be to ask ground control during your initial radio call:
"XYZ Ground, Cessna 1234 needs to do an engine-run up and is unfamiliar.  Can you suggest a place to complete our run-ups?"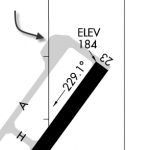 You also many notice, that at some airports, there is often a holding block or waiting area for aircraft waiting on depart on an IFR flight plan.  These are sometimes even referred to jokingly as "penalty boxes" (we have all been there at least once as a airline passenger).  This kind of location is often a perfect spot to complete your before- takeoff checklist.  You could modify your radio call to sound like this:
"XYZ Ground, Cessna 1234 needs to do an engine-run and is unfamiliar.  Do you have a holding area or some other place that would be appropriate for me to complete a run-up before takeoff"
Every airport is different, but every airport, if they serve general aviation aircraft, WILL have a place appropriate for engine run-ups.  All you have to do is ask.
If you question the reasoning behind a engine run-up, be sure to take a look at my previous post discussing this subject.
Fly Safe.