Learn to fly Garmin WAAS Equipped 530 and 430s – for free!
I can remember when as an new instructor my flight school purchased their very first Garmin 430. We were all very excited and as instructors we immediately realized that their were going to be lots of people asking us for checkouts in this airplane with this new Garmin 430. The only problem was, none of us knew how to use it. So what I did when I got home was go immediately to Garmin.com and download the training simulator. I then downloaded the user's manual and set the two up on my screen side-by-side (tiled) and went through each page of the user's manual while trying the function on the training simulator. Saved lots of time, money and received great training thereby putting me in a position to give great training as well. (I of course received a "formal" checkout from my chief instructor before giving any real checkouts).
Now that Garmin has the 430 and 530 WAAS approved, it was time to try this approach again. To start, I went to:
https://buy.garmin.com/shop/shop.do?pID=8052&tab=gns530
I looked on the right hand side of the screen and found the link for "Download Simulator." Once you click that you will see a popup screen that will allow to select the simulator you want to try out. The Garming 400/500 WAAS trainer is almost 103 MB so if you are on dial-up this might take a while. Once you have it download you can install it by following the setup instructions. I would also recommend downloading the manual for the unit. You can download the manual for the Garmin 530 with WAAS here and the Garmin 430 with WAAS here. If you already familiar with the 430 and 530 but just want a quick rundown on the new features of the WAAS equipped GPS you can do so by downloading this manual from Garmin
Now that you have the manual and the training simulator launch both of them and organize your screen to look something like this: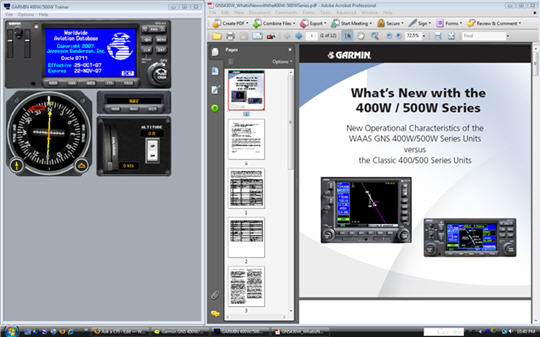 To make this training complete you also should download an approach plate. If you are a member of AOPA you can download approach charts from their website. For my demonstration, I downloaded the RNAV (GPS) RWY 7 into Greene County Lewis A Jackson Regional Airport (I19).
Next time we'll discuss some of the differences between a non-WAAS Garmin 530 and a WAAS equipped Garmin 530.
Fly Safe.