Runway Pilot – Awesome Aviation Apparel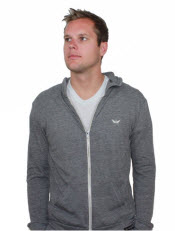 I've been flying professionally for 11 years now and one of the most important things that I've learned is the importance of staying comfortable in the cockpit.   When I worked as an aerial survey pilot, it was not uncommon to have 7+ hour legs.  That's right, 7 hours in the same seat, flying over the same county…in circles.   Let me tell you that after 7 hours of flying, even the smallest annoyance can grow to downright exasperating.  Comfort in the cockpit was critical to operating professionally.  If you have clothing that itches or doesn't breathe well, it can make a tough job, just that much more unpleasant.   Finding aviation apparel that's not only comfortable, but looks great can be a difficult search.    That's why I was so excited when Runway Pilot sent me some samples of their clothing line to try out.
Runway Pilot has a new line of clothing called Flitek.  Flitek is performance wear made with rayon from bamboo and organic cotton.  Now, I may know a thing or two about flying but I don't know anything about manufacturing comfortable pilot clothing from bamboo.  Apparently, there are a lot of advantages to using bamboo which Runway Pilot shares on their website:
Bamboo clothing, both chemically and mechanically manufactured, is 100% biodegradable. It is completely decomposed in the soil by micro-organisms and sunlight without decomposing into any pollutants such as methane gas.
Bamboo fabric is easy to launder in a clothes washer and dryer
Bamboo clothing is soft and non-irritating, even to sensitive skin.
Bamboo is naturally anti-bacterial and anti-fungal because of an agent unique to bamboo plants called "bamboo Kun." The Kun in bamboo fabric stops odor causing bacteria from growing and spreading and growing in bamboo cloth. This allows bamboo clothing to be more hygienic and to remain fresher smelling (important when flying for 7+ hours)
Bamboo clothing is hypo-allergenenic.
Bamboo is highly absorbent and wicks water away from the body 3 to 4 times faster than cotton.
Bamboo clothing is naturally more wrinkle resistant than cotton (great for traveling pilots!)
Fibers made from bamboo are more breathable and thermal regulating than cotton, hemp, wool, or synthetic fabrics.
That may be all fine and good but how does it feel?  Let me tell you, straight up that the Flitek Performance Bamboo Polo from Runway Pilot.com is the MOST COMFORTABLE polo I have ever worn. Period.
I also tried their Grey Go-Out Zip hoody & Black Flock of Pilots T-Shirt.   My favorite part about these items was that my wife liked them!  My wife has impeccable tastes.  I recently had to send back a watch I bought because my wife didn't like it (she was right). When I showed her the hoodie and t-shirt, she liked them!  That's a good sign that the Runway Pilot apparel has great style.   Most pilot clothing, let's admit is, can be pretty dorky.  I mean, who really wants to tell the world that they should remove your shirt before flight.  The apparel from Runway Pilot on the other hand says "Yes, I'm a pilot but I'm not a total dork."
If you are thinking or looking for a gift this Christmas for a pilot in your family, a shirt or polo from Runway Pilot.com would make any pilot happy.  Their clothing is stylish, comfortable and eco-friendly (read about the eco-friendly features of Bamboo here).