Definition of Va (maneuvering speed) and Vno
Thought I would post a recent thread from our forum:
Here was the question that was asked:
Could you please give me a detailed explanation of maximum structural cruising speed. I'm confused as to why it is higher than manuevering speed and doesn't change with weight like Va does if they both are turbulent air penetration speeds?
Thanks for your help.

And here was the answer:
Hi! Great Question! I actually had to do some "research" for this one!
Va. Known as maneuvering speed. This has to do with the MAX speed at which you can safely stall an airplane. During certification, this has to do with forces measured on the elevator (see image below). Any speed above Va you would exceed structual limits before reaching a stall (not good)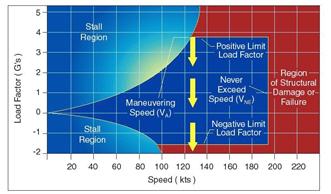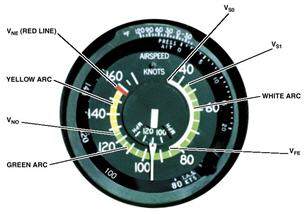 Vno. Maximum structual cruising speed. This has to do with wind gusts measured on the wings. I have to do a little more research but my source told me below the yellow arc it is 20 in. per second gusts and in the yellow arc it is 15 in per second gusts. This has to do with the wings bending and twisting. Not structural limits on the elevator.
Some instructors teach students that Va is turbulent penetration speed which is really not completely accurate and may confuse things. It also may have to do with the fact that Va wasn't a required certification until the 50's or 60's.
Hopefully this helps some.
Instructor.
Do you have a question for our flight instructors? Ask your flight training or aviation related question in the forum today!