Glider to Airplane: Do I need another student pilot certificate?
Today's question comes from Daniel who asks:
I have a private pilot certificate with a glider rating only. I am training for an airplane single-engine rating.

The FARs seem to describe the requirements for student pilots to solo, and the requirements for additional ratings to be issued, but I can't find anything about solo requirements for rated pilots seeking additional ratings.

Since I am already a rated pilot, do I need to get a student pilot certificate in order to solo? (I have a valid medical, but it is more than two years old so it is not valid on its own as a student certificate.) It seems absurd to me to have to get a new student certificate, but I cannot find anything in the FARs to tell me otherwise.
Well Daniel, I have some good news, You will not need to get another student pilot certificate but you will need a new medical to solo since yours is expired.  To obtain a medical you'll have to visit a AME or Aviation Medical Examiner.  The FAA has some search tools to find a local AME.  You will need at least a third class medical to solo. It will look like this.
Once you have obtained any FAA Private Pilot certificate you can use that to train for other pilot categories, class and ratings.  This time however, instead of receiving endorsements to solo on your student pilot certificate, you'll receive the endorsements and sign-offs in your pilot logbook.
If you are looking for the official FAA reference for this, the best place to look is the Private Pilot Practical Test Standards. You want to look at page "1-V" for the Additional Rating Task Table that will show you which maneuvers and tasks you will be required to complete on your checkride.  for an additional category rating on your current private pilot's license.  Look for the column that is labeled "glider".  I've highlighted it in the table below: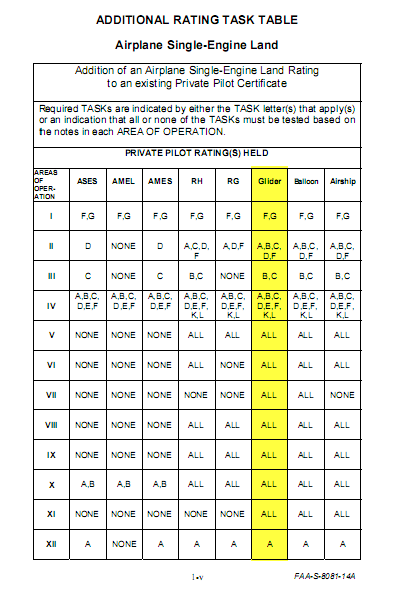 After you pass the airplane private pilot checkride, you'll turn in your private pilot glider certificate and receive a new 120 day temporary airmen certificate that will specify that you now have private pilot privileges for glider and for airplane single-engine land.
Good luck with your training and be sure to…Fly Safe!