Effect of Weight on Glide Ratio
Every once in a while I get a question on askacfi.com that I'm pretty sure is a homework question but I still don't mind answering it.   Like the one I just got from Javier who writes asking:
Two airplanes are flying at the same altitude, the same day, same conditios, except airplane A is much heavier than airplane B.  Both of them start a power off descent at the same time at the same position. Which airplane will arrive first to the ground?  The heavier? The lighter? Both at the same time? Will both airplanes arrive at the same point? This is a question I was asked a few days ago, and I can't find the correct answer. I would really appreciate if you could help me out.
Holy Smokes that's a good question! But I think I found your answer from:

http://www.skybrary.aero/index.php/Glide_Performance
Variations in aircraft weight do not affect the glide angle provided that the correct airspeed is flown. Since it is the lift over drag (L/D) ratio that determines the gliding range, weight will not affect it. The glide ratio is based only on the relationship of the aerodynamic forces acting on the aircraft. The only effect weight has is to vary the time the aircraft will glide for. The heavier the aircraft is, the higher the airspeed must be to obtain the same glide ratio. If two aircraft have the same L/D ratio but different weights and start a glide from the same altitude, the heavier aircraft gliding at a higher airspeed will arrive at the same touchdown point in a shorter time. Both aircraft will cover the same distance but the lighter one will take a longer time to do so.
So based on the information above.  Here are your answers:
The heavier airplane will arrive on the ground first
Yes, the airplanes will arrive at the same point (given the correct speed is flown)
Pilots, do you have your aircraft's glide speed memorized? This should be a indicated airspeed you should try and maintain the second your engine quits or starts sputtering.   This speed is important as it represents the bottom of the drag curve.  Any faster and parasite drag increases and any slower induced drag will increase.  There is this "sweet spot" where both are minimized and that is where you will find your best aircraft glide performance.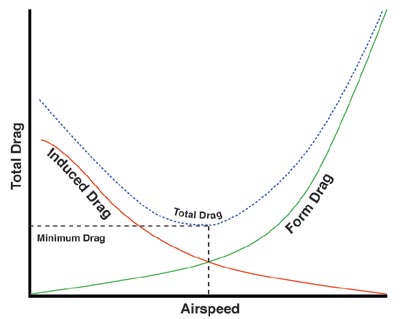 Ever wonder how far you could glide given a certain altitude?  Try this Aviation Glide Calculator.  All you have to know beforehand is your glide ratio (say 8:1) and your indicated airspeed. (Use your L/D max speed)
Paul.