AWOS online
There are about 200 unanswered questions sitting in my inbox that I need to answer right now, but I wanted to quickly share with you a cool website that I found recently.   I was trying to check weather at a destination airport that isn't able to generate a METAR report because it is served by a AWOS-3 type weather station.  Fortunately, the FBO at this airport let me know about Stanwyck Avionics website at: 
Stanwyck Avionics has developed a software interface that allows pilots to graphically view real-time AWOS and ASOS weather station data.   Here is a sample screenshot from Hornell, NY (4G6) airport: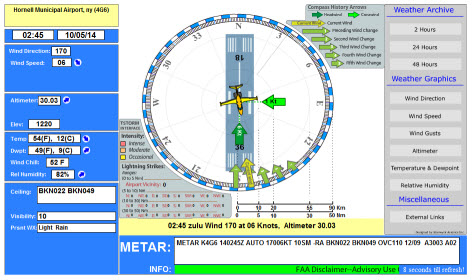 There are several things I like about this display.  I like how quickly you can see the wind direction and the runway in use . Also presented graphically is the headwind and crosswind component.  This information could be very valuable for student pilots to make sure that they abide by the crosswind component limitations listed in their solo endorsements.  No crosswind component chart necessary!  You can view the digital weather on the left side of the screen and just by glancing at the up or down arrows, you can determine the current trend  for wind speed, altimeter, density altitude, temperature, dew point, and relative humidity.  If you want more historic trend information, you can display a graphic trend report by clicking the appropriate button listed under "Weather Graphics".  I know of no where else where all of this information is displayed so quickly and easily.
The best part of this system, besides the display, is the fact that this software displays real-time weather.  You will never see weather that is more than 60 seconds old.  Not even a METAR can beat that!
You can view the entire list of airports served by Stanwyck Avionics software by visiting their website.  Just click on "online airports" and then the state in which your airport is located.    You will see a Google Map with markers at the airport locations and then a list below the map.  Just by clicking on the airport name you'll be taken to the graphic weather display for that particular airport. There are many airports listed, hopefully your airport is there.