Disorientation (Video)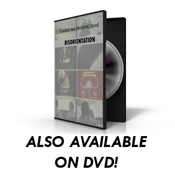 Disorientation is a critical danger to flight safety not only because of how often it occurs but also because of how often the cases of disorientation result in fatal accidents.  In fact, during a recent 5 year study by the FAA it recorded over 500 accidents where disorientation played a large part in the accident.   Out of those 500 accidents, 90 % of them were fatal (AC 60-4A).
This 1973 flight training video developed by the FAA alerts pilots to inflight situations that are potentially disorientating by describing how this physiological phenomenon influences and often distorts flying judgments. It suggests that when physical senses are at variance with cockpit instruments, you should not randomly hit buttons.
This lower quality video was complied using a higher quality digital video that is available for purchase on a DVD for only $8.85 (plus S&H).  Please visit my pilot store for more information about this product and how you can add this informative and classic FAA flight training video as a permanent part of your flight training library.