What happens when an aircraft is struck by lightning?
This is one of those questions that everyone has asked at one point or another. Whether you are a pilot or a passenger, we all have wondered what would happen if the airplane that I'm flying would suddenly be hit by lightning?
In private pilot ground school we learned that friction causes drag.  What we may not have been told is that this same friction also creates static electricity.  As an airplane flies through the air it continuously creates a static charge, especially on the aircraft control surfaces.  This situation is only made worse when flying through any kind of precipitation or even worse, volcanic ash.   Static wicks which are attached to the trailing edges of control surfaces are designed to help dissipate this charge to the surrounding air.  Static wicks protect not only our flight instruments and radios but also the flight surfaces themselves.  Without the static wicks attached, the static charge on the surface would try to "jump" the unconductive control hinges to the rest of the aircraft.  This "jump" or arc could cause permanent damage to the surface itself if the static charge had the opportunity to build sufficiently.  To further protect against this damaging "jump", manufacturers also attach conductive bonding strips to keep the static build-up to a minimum.
We also learned in ground school that airplanes are primarily made of aluminum which we know is an excellent conductor.  This conductive property of aluminum creates a "Faraday cage" around the airplane protecting its' contents. I'm not an electrician, but the best definition I can give of a Faraday cage is that it is an electrical enclosure.  This enclosure shields the contents inside the cage from the current that might be present on the surface of the Faraday cage.   Although there is a lot of static electricity on the outside skin of an aircraft, the aluminum conducts the electricity away from the interior and towards those static wicks that I mentioned before.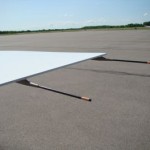 Now some aircraft are not manufactured with traditional aluminum but with a high-strength composite material like the Beechcraft Premier or Cessna Columbia.  Fortunately, engineers have designed strike protection into the composite material by making one of the layers a graphite cloth and aluminum ply.  This ply, which is highly conductive, also serves to create the same "Faraday cage" affect that is found on traditionally manufactured airplanes.  Some composite airplanes also have an additional layer of protection against lightning strikes by installing Metal Oxide Varistors (MOV) throughout the circuitry.  MOVs are designed for failure.  If an MOV senses a sudden surge of current (from say a lightning strike) than it is designed to break and protect the rest of the aircraft's delicate electronic systems.
So obviously with all these various lightning strike / static electricity protection systems, engineers are designing aircraft with the assumption that aircraft stand a reasonable good chance of being struck by lightning.  In fact, it is believed that most commercial aircraft are struck up to twice a year. Most of the time, a lightning strike is a minor event (thanks to those protective systems).  The only evidence left behind in most strikes is a small lightning entry and exit point.   In the photo below, you can see where lightning made a small entry point on the top part of the aircraft's radome (nose) and you can see the exit point about 6 inches lower.
Sometimes aircraft damage from a lightning strike is more severe.  Lightning has been known to pop circuit breakers (which fails aircraft systems), magnetize control surfaces, punch large holes through aluminum (although this is extremely rare) and flicker or even cause the failure of some glass cockpit displays. This leads us to the next question, has an airplane ever crashed as a direct result of lightning?
I wish I could say no, but accident investigation evidence says otherwise.  The Flight Safety Foundation (FSF) through the Aviation Safety Network list several airplane accidents where lightning was a direct contributing factor in the accident.  You can see the list for yourself.  The most recent listing is a Dornier 228 that on December 04, 2003 took a direct lightning strike that the crew immediately reported.  The lightning apparently damaged the rudder and made aircraft control very difficult.  Fortunately, there were no fatalities although but the aircraft was totaled and considered a loss.  There are older accidents listed as well by the Aviation Safety Network and some of these, although very tragic, have benefited travel safety today in the form of better design and engineering in aircraft systems.
What can I do as a pilot to avoid being hit by lightning?
Avoid thunderstorms!  The Aeronautical Information Manual (AIM) states that the "probability of lightning strikes occurring to aircraft is greatest when operating at altitudes where temperatures are between minus 5 degrees Celsius and plus 5 degrees Celsius. Lightning can strike aircraft flying in the clear in the vicinity of a thunderstorm. "  Their advice to avoiding being struck by lightning? Avoid any thunderstorm identified as severe or giving an intense radar echo by at least 20 miles.
[/caption]