Foreflight Review
This review has been a long time coming. I've been using ForeFlight Mobile since version 2, and raving about it on Twitter the entire time. At this point, ForeFlight has been around long enough that you know their flagship product: an electronic flight bag, in your pocket, on anything that runs iOS.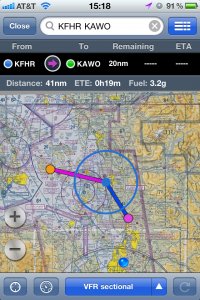 On the iPhone, ForeFlight and I are inseparable. I can view live METARs & TAFs, pull down NOAA weather graphics, and view sectional and enroute charts, complete with weather overlays. On top of the maps, I can plan my route, then file it as a flight plan. All of this is done from an interface that feels right on the device. ForeFlight Mobile has been my primary source of weather information for the last two and a half years of full-time flight instruction. Only occasionally have I felt the need to find another source, and with recent updates like PIREPS on the map view and improved access to icing forecasts, those times are becoming increasingly rare.
While ForeFlight is great on an iPhone before a flight, it's less useful in the air. It allows you to save and view instrument procedure charts, but an iPhone or iPod touch screen is simply too small for non-emergency use. With that in mind, I recently purchased an iPad 2 (wifi) to act as a more complete flight bag in the cockpit. This isn't a review of the iPad, but the larger screen size and therefore larger keyboard mean easier data input and present procedure charts at scales approximating paper Jeppesen or NACO charts.
There are currently three $99 GPS units on the market that allow a wifi iPad to add location data to applications like ForeFlight. The GNS 5870 MFI and Dual XGPS150 are battery (or cigarette lighter) powered and use the iPad's Bluetooth connection, while the Bad Elf connects directly through the dock port and is powered by the iPad's battery. I wound up purchasing the GNS 5870 as a result of concerns over the dock connector connection feeling fragile, and my father owns the Dual XGPS150. We're both satisfied with ours, although the Dual is definitely the nicer device. That said, all three offer great performance.
Once you've planned and filed your flight, and you're up in the air, ForeFlight really shines. The georeferenced enroute charts allow you to quickly and easily modify your route, either by touch & drag or text entry. Assigned an airway enroute? No worries – simply type "PAE V23 BTG KPDX" and your entire route gets plotted. Unless you've got a GNS480 or a fairly recent G1000, it doesn't get any easier than that, and even with the latest panel hardware it certainly isn't as fast as ForeFlight. With the recent addition of XM WX datalink weather, you can add live weather overlays in flight at any altitude, although it comes at a steep price for the XM hardware. If you don't quite have the cash for that, your 3G iPad (or your wifi iPad tethered to your smartphone) can be used to access a data connection to access current data – although you may incur the wrath of the FCC for doing so.
While other iPad apps are on the market – WingX and Jeppesen both offer georeferenced approach procedure and enroute charts – they seem to be targeting different groups of consumers. Jeppesen is obviously focused on commercial users, and as much as I love their approach plate format, I can't justify the pricing. WingX seems to be adding some edgy (and very neat) features like synthetic vision and AHRS support, but the peripherals to do so cost more than the iPad and their UI seems pretty lacking. What I need in the cockpit is ease of use and great organization, and that's what I have with ForeFlight.
In summary, ForeFlight is an amazing cockpit resource, and certainly the first practical replacement for paper charts I've ever used. Other implementations exist – most commonly on the Garmin 696 handhelds, but also on the G1000 MFD in the form of Jeppesen ChartView. Both solutions are limited by a poor retrieval interface and highly pixellated charts. ForeFlight's presentation, while limited to NACO, is fantastic. When you combine the enroute view (and the information available as overlays, from weather to fuel prices) with geo-referenced instrument procedures (an extra $75/year), you have an incredibly powerful tool for situational awareness.
PRO:
+ highly integrated
+ outstanding interface
+ multiple form factors
+ georeferenced charts
+ on par or less expensive than Jeppesen's Express regional paper subscriptions
+ compatible with external GPS units in flight
+ compatible with WxWorx XM WX receiver
CON:
– expensive when compared to NACO paper
– like other georeferenced providers, must manually add approach waypoints
ForeFlight 4 HD
FREE for 30 days
$75 for a one-year subscription
$150 for a one-year subscription with geo-referenced approach plates