Glass Cockpit or traditional gauges for primary training?
Here is a great question that I received recently from Brian wondering if he should choose an aircraft equipped with a G1000 or an aircraft with traditional instruments for his primary training.  His question:
I'm trying to decide between doing flight training in an airplane with a G1000 cockpit versus an airplane with the traditional mechanical gauges. The cost is similar so I've taken that out of the equation. Do you think it's wise to go with the more traditional gauges or the glass cockpit? I do plan to do instrument training after I get my private certificate and/or get the additional glass cockpit training. So, I feel that using the glass cockpit might be a cost cutting measure.
Before I get started with my answer, let me make something very clear, I love using the G1000.  I think it is a fantastic tool in the hands of a properly TRAINED pilot.  The problem with the G1000 isn't the product however, it is with the training required to properly use it.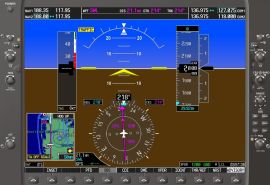 If you have ever used, or even seen a G1000, you'll agree that the G1000 is a VERY  capable system.  There isn't a lot it can't do.  There is so much information available to the pilot in terms of weather, charts, maps, etc. In fact there are volumes of books, manuals, DVDs and online and offline classes dedicated to becoming familiar with the different functions and features of these glass cockpits.  (One of our "resident" flight instructors, Max Trescott, has written such a book, The G1000 Glass Cockpit Handbook.)
And that is the problem.
Primary flight training should be focused on learning well, the primary pilot skills necessary for the basic pilot certificate (Private, Recreational, etc.)  The problem with using the G1000 during primary flight training is that all those features of the G1000 actually become a hindrance to training because the training now becomes focused on learning the tool and not obtaining the objective of the actual flight lesson.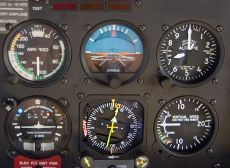 My advice?  If you can choose, choose the aircraft with the basic flight instruments for your primary flight training.   Take the time to learn good stick & rudder skills and pilotage (that means without GPS).  Once you understand and know the basics, then you can advance to an aircraft with a more capable avionics package for your instrument rating.  Sure, you may spend a couple more hours and a few more dollars getting up to speed with the G1000, but you just can't put a price tag on learning the basics of flying (just ask Capt. Sullenberger).