What is meant by "Five by Five"?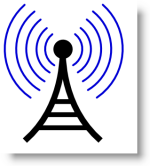 Have you ever wondered what is meant by the term "Five by Five?"  You'll hear this sometimes as a response when an aircraft or tower is asking for a radio check:
"Citation XYY, how do you hear this transmitter?"
"5 by 5"
Well, I've heard this term used countless times and it was a recent transmission that finally motivated me to do some research.  I wanted to find out exactly what is meant by that term "5 by 5" when I heard an aircraft respond to a radio check by saying:
"I hear you 3 by 5."
Ok, so what transmission quality is represented by the "3" and what is represented by the "5".
Well, thanks to my local tower controllers, I learned that the first number is for signal strength and the second number is for readability. Signal strength and readability are measured on a five point scale with 5 being the highest value possible and 1 being the lowest.  So when you say to the controller (or pilot) "5 by 5", it is literally another way of saying that the transmitter you hear is "loud and clear."  If you say "3 by 5" it's like saying, "Your coming in kind of weak, but I can still make out what your saying"
So now you too know the meaning of the term "Five by Five".