Sample Takeoff Briefing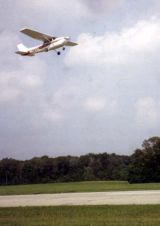 Before Takeoff Checklist
Throttle: 1700 RPM
Magnetos: Checked
Carb Heat: On
Carb Heat: Off
Throttle: Set-800 RPM
Flight Instruments: Set
Takeoff Briefing….huh???
A common problem that I see in many of my students (both primary and advanced) is the failure to adequately brief the takeoff and departure segments.  This is a critical and common mistake with many pilots.  Richard C. Cushing summarized the importance of planning when he said:
Always plan ahead. It wasn't raining when Noah built the ark.
This quotation really summarizes the purpose of a good takeoff briefing.  A takeoff briefing should clearly state your plan-of-action for both when everything goes as planned and "when it starts to rain".    Because as the proverb says:
He who fails to plan, plans to fail
So then, what should you include in a takeoff briefing?  I think a good takeoff briefing is one that answers questions. Questions like:
Who will perform the takeoff? Student or Instructor?
Which runway are you departing?
What type of takeoff is going to be performed? Normal, rolling, short field, soft?
What will I do if I lose an engine during the takeoff roll? What about a engine loss at 50 feet? 500 feet?
What are the critical V speeds for this particular aircraft? Vx, Vy and Best Glide.
What are the departure instructions? Is there an obstacle departure procedure that I need to be aware of? Does my departure clearance include a SID?
Which airport would I go in case of an emergency and the airplane was still flyable?  Sometimes the departure airport isn't prepared to handle an engine fire or has a runway long enough to deal with a complete hydraulic failure.
Do you see now the importance of including a pretakeoff briefing before each and every flight? This is not a procedure just for the first-flight-of-the-day.  A takeoff briefing should be performed if you're staying in the pattern, departing on a cross-country and with or without an instructor present.  Every takeoff is unique and each requires a different course in the case of a malfunction.  It should also be noted that a verbal (as in out-loud) briefing should be performed in both single pilot and crew pilot configurations.  Just because you don't have a pilot sitting in the cockpit listening to you doesn't make the exercise without merit.  Verbalizing and listening to your own voice through the intercom / headset is a good way to solidify and commit your intentions to memory.
Here is a a sample takeoff briefing that I would use in a single-engine aircraft:
This will be a normal takeoff.  We will departing on runway 24 with an initial altitude of 3,000.  Vr is 50 and Vy is 67.  If we have any problems before rotation or with adequate runway remaining after liftoff, we will abort.  Standard emergency procedures will be used in the event of engine failure without adequate runway remaining.  Best glide is 65 KIAS.  We won't even think about returning to this airport unless we are at 1,000 AGL.  Any questions or comments?
As you graduate into more advanced aircraft, you'll notice that your takeoff briefing will have to be adapted to match the performance of that airplane.  For instance, here is a sample takeoff briefing for a light jet aircraft:
This will be a rolling takeoff with flaps set at 10 from runway 23.  We will abort for any reason below 80 knots.  After 80 knots we will only abort for engine fire, engine failure or  failure to maintain directional control.  After v1 we'll handle it as a in-flight emergency and continue the takeoff roll.  Memory items will be as required and hold all checklists till 1,000′ AGL.   If we have to return, we'll request a left downwind for 23 and pattern altitude is 1,500′. Departure instructions are the Airport 5 SID which has us making a left turn to 210 deg at 500 feet.  Standard calls. Any questions?
I've provided these as a basis for you to develop your takeoff briefings.  I've warned you about the dangers of not using a pretakeoff clearance but there is also a danger in "rote" recitation where you can just say the words, without really giving them the thought they deserve.
I don't have to rehash the accident statistic rates here, but I'm sure you know how a large majority of aviation accidents and incidents occur during takeoff and landing phase.  That is why it is so crucial that we plan for a emergency before they happen.  Playing defense against an emergency, without a clear cut plan, is much harder than playing an offensive maneuver that has been rehearsed and discussed.
Fly Safe (and brief those takeoffs!)