Generator vs an Alternator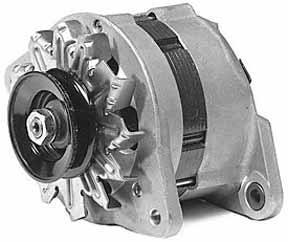 Arthur writes in asking:
What's the difference in a generator and an alternator?
Good question and I'm sure that it is one that many student pilots have asked themselves before.  The key difference between an alternator and generator is how the current is created.  In other words what is "fixed" and what spins.
A little electricity 101 first.  Anytime you have electricity in a wire, there is a small magnetic field generated around the wire.  The opposite is true too.  If you move a wire through a magnetic field, a small amount of current or electricity is generated in the wire.  Basically, anytime an electrical conductor moves through a magnetic field, voltage is generated and voltage then causes current to flow.
So getting back to our question, what is the key difference between a generator and an alternator?  Well, in a generator you are creating electricity by moving a wire armature (imagine a square wire loop) within a fixed magnetic field. You can alter how much electricity is generated by altering either the speed at which the armature rotates or by altering the strength of the magnetic field which is the purpose of those wire windings on the stator magnet in the picture below.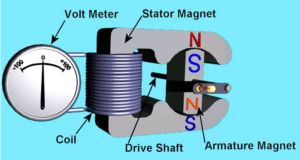 Now in an alternator, a magnetic field spins in a series of windings called a stator.  In affect, the opposite of what happens internally in a generator.  The net result is the same, just an alternator uses a much more efficient method.  Even though an aircraft alternator is a bit more complex than a generator, there are many advantages of using an alternator.  First, the construction of an alternator allows for the windings to be directly wired to their output points vs having inefficient slip rings and such.  Also, due to the way that alternators are constructed (with 3 separate windings) it allows for much smoother electrical output (imagine driving a V8 vs a straight four cylinder car).  A alternator can also be brought up to speed much quicker and can develop sufficient power even at lower, idle RPM.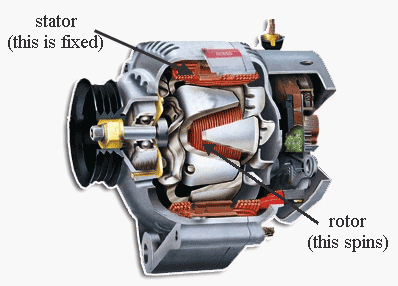 Now, time for my disclosure.  Most of my knowledge on this subject comes from 3 sources.  One, my coworker who is an A&P mechanic and 2 other sources, "Aircraft Systems for Pilots" by Dale De Remer and this article at Rowand.net titled "Alternator and Generator Theory".  If you want to learn more about either aircraft alternators or generators I would suggest either of these sources (my mechanic isn't available as I am already picking his brain for the next article!).
Until the next time….
Fly Safe!