Find Historic Weather Information for Airports
Did you know you can use Wunderground to find historic information for airports? This can be extremely handy when flight planning a month or two ahead of time and trying to find out if you will be able to meet your performance criteria such as takeoff and landing distance which is temperature dependent.
To try this out go to:
On the search bar type in the name of your destination airport:

Once you do that you can scroll down the page till you see "Weather History for This Location" or you can scroll down further till you see "History and Almanac". Select the day of your proposed flight from the dropdown box; for year, I would pick the most recent (2007). That will then open a new window.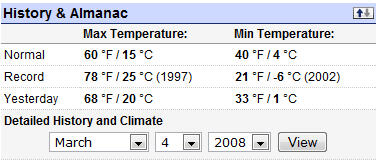 You will then see the the data we are looking for: Mean temperature.

This is great! Now we can know with pretty good certainty what the temperature will be on the day we are proposed to fly. Now we can look up our performance numbers using our POH or AFM, our runway lengths and make sure everything checks out ok.
Fly Safe.