Procedure Turn Not Required
A good pilot is always learning right?  Well, I have learned something recently about TAA approaches, procedure turns and how they are charted, especially on the Jeppesen charts.  To begin, let's take a look at this traditional RNAV / GPS approach: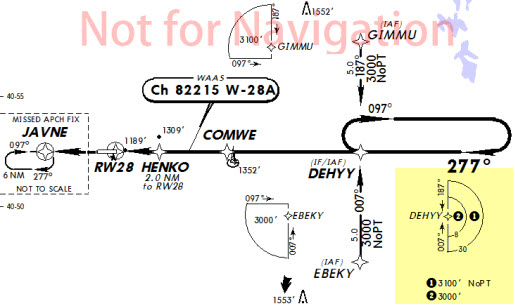 This is a standard "Basic T" approach that uses a Terminal Arrival Area (TAA) to assist with the transition from the enroute structure to the terminal environment.  You can see how this approach has the  3 standard IAFs (initial approach fix)i to guide you to the intermediate leg, which is the approach leg located between the intermediate fix (IF) and the final approach fix (FAF).  In this case, DEHYY serves as both a IAF and the IF.  If you given DEHYY as your IAF, you will either have to fly the procedure turn (PT) or NOT fly the procedure turn based on your arrival area.    Since the procedure turn is drawn with a black bold line, we know that it is a charted published portion of the approach, again only if the requirements for flying the procedure turn are met.   You'll notice that if EBEKY or GIMMU were your IAFs, then you are not to fly the procedure turn as it very clearly states in the plan view "NoPT".  You'll also notice that in the "straight-in" area that there are two segments or step downs that are defined by the distance to the IAF, in this case DEHYY.   There is a 30 NM, 3100′ segment and a 8 NM, 3000′ segment to DEHYY in the straight-in area.  I have highlighted this straight-in area in yellow on the approach plate above.
I was on a very (very) short reposition flight to airport that was located about 10 miles away from my departure airport.   After takeoff I climbed up to 3,000 feet (my initial and final altitude) and almost immediately after my initial contact with departure control I heard the words "Cleared direct to DEHYY, maintain 3,000 until established, cleared for the GPS RNAV Runway 28 approach."  Ok, no big deal, I'm doing the full approach on my own.  I loaded the approach in the FMS and proceeded direct to the initial approach fix (IAF) of DEHYY.    Like I said, this was a short flight and I was pretty busy with the after takeoff, descent and approach checklists.  Never mind that I had to double check my Vref speed, set the VNAV minimums in the autopoilot and obtain the latest weather on ASOS!  I had just enough time to glance down at my Jeppesen approach plate and read the notes associated with using DEHYY as the initial fix.  I saw the "1" and "2" and quickly determined that because I was at 3,000 feet and within 8 miles of DEHYY, the procedure turn IS required because I don't see the words "NoPT" like I did see for the 30 miles and 3100′ transition or the north (GIMMU) and south (EBEKY) transitions.  I WAS WRONG!
I started the procedure turn outbound and heard approach ask, "Are you headed eastbound?"  "Yes," was my response.  All I heard as a response initially was quiet….that's not good.  "Ok, call us inbound"  "Roger", I replied.   "Oh, and if you wouldn't mind please calling me when you get on the ground too"  Oh boy, that's definitely not good.

Make a long story short, after calling approach and contacting the Jeppesen charting office, I learned something very important about how transitions and procedure turns are charted. When there is a common transition to a fix, the "NoPT" is only added to the first leg of the transition. (please read that twice).  For instance, if you look at the above approach plate, you can see that the words "NoPT" are placed next to the 3,100′ and 30 NM transition but not to the 8 NM and 3,000′ portion.  Although it is not explicitly stated, the procedure turn is NOT authorized for that leg of the transition as well!  Did you know that?  I sure didn't.
Now that some time has passed and I've thought about it, it makes a lot of sense that I didn't have to do the procedure turn.  However, at the time, all I knew was that I didn't see the words "NoPT" beside my transition, so I thought that the procedure turn was required.
I took a look at the NACO chart for the same airport, and to be honest, the NACO chart makes it a little clearer that a procedure turn within that 8 mile, 3,000′ transition is not required but it leaves some room for question.  Here is the same approach: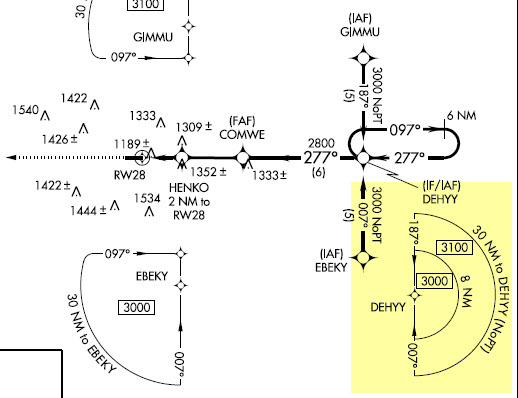 On the NACO chart you can see that "NoPT" is added for that entire straight-in transition area (187 ° through 007°) and by the way that it is drawn it does a little better job of implying that that procedure turn is not to be flown while in either steps of this transition (3,100′ and 3,000′).
Do you know when else you are not required to do the Procedure Turn?
1) When the symbol "No PT" is depicted on the initial segment being used
2) When receiving radar vectors to the final approach course
3) When conducting a timed approach from a holding fix
4)When ATC specifies in the approach clearance "Cleared Straight-In (type) approach"
5) When a teardrop procedure turn is depicted and a course reversal is required, this type turn my be executed.
6) When a holding pattern replaces a procedure turn, then the holding pattern must be followed (unless you meet one of the above rules)
7) When the procedure turn barb is absent from the plan view
These limitations all come from FAR 91.175 and AIM Chapter 5-4-9.
Here is the summary (which is also explicity stated in the AIM):  Anytime you have any question about whether a procedure turn is to be flown you should "immediately request clarification from ATC". I could have saved myself a lot of grief (and some time & fuel) by just taking a second (despite my workload) to say "Just want to clarify, are you expecting me to fly the procedure turn?"   You should never be so busy as to not have time to request a clarification from ATC.
Well, I hope you learned something from my mistake and that it keeps you from doing something similar.    I'll be honest, I don't like confessing when I've messed up (even though I do it all the time) but I really hope that at least one other person comes away from this having learned something about procedure turns and how they are charted.
Fly Safe!