One website for quick and easy text weather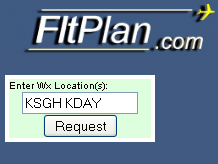 Have you ever wanted a quick and easy way to get text weather (METARs, TAFs and NOTAMs) for a selected airport from one website?
This can be handy if you are wanting to check weather at an airport before a training flight or perhaps a flight just around the traffic pattern.   Maybe you don't need a full weather briefing, to file a flight plan, or even weather graphics; all you need is some basic text weather.  Well I finally found a quick and easy way to get METARs, TAFs and NOTAMs for multiple airports using a single webpage AND it works on a mobile phone as well.  Are you ready? The URL is:
http://www.fltplan.com/Cell.htm
Although it is designed to be used primarily to get aviation weather from a mobile phone, I like using this URL from my regular computer and browser.  It just provides for me a good way to check the weather at single or even multiple airports without the fuss of having to sign in.   This in  no way replaces my official and required weather briefing, but if you just need an update on that briefing, I think that fltplan.com/cell offers a neat solution.  No clicking, no selecting radio boxes, just type the airport indentifiers and you're done!
Again:
http://www.fltplan.com/cell.htm
If you are looking for a good comprehensive flight planning and aviation weather package for the Apple iPhone, I strongly recommend you take a look at the products offered by ForeFlight.